Isobel Dobson's stepfather 'probably started' fire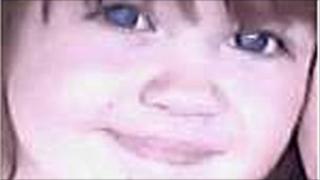 A man may have deliberately started a fire that killed his two-year-old stepdaughter, a coroner has ruled.
Isobel Dobson, of Hemsworth, died after being trapped in a burning van during a fire at Hessle Farm in Wragby, near Wakefield, on 30 September 2011.
The inquest at Wakefield Coroners Court heard Terry Webb probably started the fire to appear heroic by rescuing her.
Coroner David Hinchliff recorded a narrative verdict but said he could not determine who started the fire.
Mr Webb was initially arrested for murder and attempted murder but was released after the CPS chose not to go ahead with the case.
Isobel's family had been at the farm tending to a horse before the fire started in a barn being used to store hay.
The 39-year-old lorry driver denied igniting the hay barn, which engulfed his van containing Isobel and her one-year-old half sister Sarah, who was rescued.
'Horrendous lies'
During the inquest, Mr Webb was described as a "pathological liar" and a "sad man" by the coroner.
Mr Hinchliff said: "I don't think you can say for one moment that Terry Webb wanted to cause death or serious injury to these girls.
"He more than likely started the fire deliberately so he could become a hero and rescue these girls. But sadly things went wrong."
A naked flame was used to ignite hay and an accelerant was also used, experts said.
At the hearing, Mr Webb said he had a can of petrol and firelighters in the vehicle but denied starting a fire accidentally or on purpose.
He also admitted he had a history of telling "horrendous" lies.
Det Sup Sukhbir Singh of West Yorkshire Police said Mr Webb's history of lying inevitably cast doubt over his version of events surrounding the tragedy.
Following the verdict, Isobel's mother Stacey Catch said a criminal jury should now decide who killed her daughter.