M62 Hartshead Moor bombing victims remembered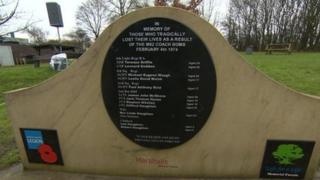 A ceremony has been held to commemorate the 12 people, including two young children, who were killed in a coach bombing on the M62 in 1974.
It was staged in the memorial garden at Hartshead Moor service station in West Yorkshire.
The attack, on February 4, 1974, targeted off-duty soldiers and was suspected to have been the work of the Provisional IRA.
The victims died after a bomb exploded in the coach's luggage compartment.
Relatives of those who were killed join soldiers and veterans every year at a memorial service.
'Very moving'
Albert Walsh, brother of 17-year-old Leslie Walsh who died in the bombing, said seeing about 100 people at the ceremony had been "fabulous".
"It's a real tribute, I find it very moving: it's important we're doing all this," he said.
A tree was planted to commemorate the driver of the coach, Roland Handley, who died last year.
Cpl Terence Griffin, 24, Gunner Leonard Godden, 22, Signalman Michael Waugh, 23, Signalman Leslie Walsh, Signalman Paul Reid, 17, L/Cpl James McShane, 29, Fusilier Jack Hynes, 20, and Fusilier Stephen Whalley, 18, all died in the blast.
Cpl Clifford Haughton and his wife Linda, who were both 23, and the couple's two sons Lee, five, and Robert, two, were also killed.
The coach was taking soldiers and their families from Manchester to Catterick Garrison in North Yorkshire when the bomb exploded.
A memorial made of Yorkshire stone was unveiled in the garden in 2009 to replace a plaque inside the service station.
The original was moved to the Imperial War Museum North in Manchester.