Atkinson Grimshaw Leeds watercolour comes home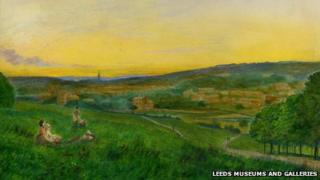 A rare watercolour painting by Leeds-born artist John Atkinson Grimshaw not seen in the city for more than 30 years has been bought at auction.
The landscape, View of Leeds from Woodhouse Ridge (1868), has been bought for £31,000 and is now on display in Leeds Art Gallery.
It was sold privately in 1968 and was last on display in Leeds in 1979.
Leeds City Council said there were only a handful of known watercolours ever produced by Grimshaw (1836-1893).
The watercolour joins two others among the 24 works by Grimshaw in the Leeds museums and galleries collection.
The painting shows the view from Batty's Wood looking towards St Chad's Church in Headingley.
Theodore Wilkins, Leeds City Council assistant curator of fine art, said he was thrilled to "save this extremely rare and beautiful watercolour for the city's collection".