Naomi Button, from Bramley, pleads for snatched child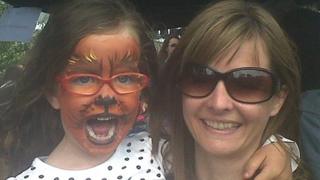 The mother of a schoolgirl snatched by her father while on a family trip in Egypt is pleading for information about the girl's whereabouts.
Naomi Button's appeal comes after the father was given a second jail sentence for not returning the child.
The five-year-old girl, Elsa Salama, was taken by Tamer Salama at Sharm El Sheikh, Egypt, on 27 December 2011 while visiting her paternal family.
Ms Button, 39, from Bramley in Leeds, has not seen her daughter since.
'Unbearable'
Ms Button said: "To snatch Elsa away from me was the cruellest thing anyone could do... I appeal from the bottom of my heart to Tamer's family to please give her back to me.
"All they need to do is to make one phone call to the British Embassy.
"The anguish I have suffered over the last 13 months has been almost unbearable at times."
Salama, her 35-year-old Egyptian-born estranged husband, is in jail in England for refusing to comply with court orders to return Elsa to her mother.
Ms Button is making a plea to the public to come forward with any information that may help her locate her daughter.
Ms Button has a custody order in Egypt but does not currently have any proof that Elsa, who will be six years old in February, is alive and well.
'Investigative powers'
A Foreign and Commonwealth Office spokesperson said: "We have been providing consular assistance to Ms Button since December 2011 and continue to do so, including by supporting the UK police in seeking Egyptian police assistance to find Elsa.
"While Elsa is in Egypt, the Egyptian Police are responsible for locating her, since they have powers to investigate matters in Egypt."
Last week, after sentencing Salama in the High Court in London to a further 12 months in jail for his continuing failure to comply with court orders to return his daughter to her mother, Mr Justice Cobb said Elsa was being deprived of the "love and care" of her mother.
"I am satisfied that her father has it in his power to achieve the restoration of her relationship," he added.
Mr Justice Cobb said Salama had failed to give any information about the child's whereabouts or provide any form of contact between the girl and her mother.
Salama has been in jail since January 2012 for contempt of court.
He has said Elsa was moved from Sharm El Sheikh to Cairo by Elsa's grandmother, but no information as to her exact whereabouts has been provided.
A social networking campaign has been launched asking for information on the child.
The couple were married in Egypt in 2006 and moved to England in 2007 following Elsa's birth and lived in Leeds.
They separated in 2009 but continued to live in the family home until Salama moved out in August 2010.