Calder Valley flood repair and recovery 'to cost £13m'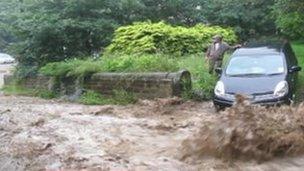 The cost of repairing damage caused by severe floods in the Calder Valley in 2012 and to fit new prevention measures will be about £13m, a report has shown.
Flash floods hit the Calder Valley in June and July last year, with a month's rain falling in a matter of hours.
About £3m has already been spent by Calderdale Council and other agencies to mend flood damage, a report to be seen by councillors has revealed.
Council leader Tim Swift said the cost of the repair job was "simply massive".
The report, to be presented to Calderdale Council's economy and environment scrutiny panel, details the progress of the recovery operation since a series of floods in the Calder Valley between 22 June and 9 July 2012.
While "significant progress" had been made to repair flood-related damage, much more work would need to be done to avoid a repeat of the flooding, the report suggested.
So far, Calderdale Council had spent £1.5m on the recovery operation, with the Environment Agency, Yorkshire Water and the Canal and River Trust spending a further £1.5m, the report said.
Work already completed included repairs to walls, drains, river culverts and flood defences in Hebden Bridge, Todmorden and Mytholmroyd, the report showed.
Though the Yorkshire and Humber Regional Flood and Coastal Committee had committed £3m towards flood prevention measures, additional road and drain repairs in the Calder Valley were still likely to cost a further £7m, the report revealed.
While Calderdale Council had received about £80,000 from the government's Bellwin Scheme, which helps councils in the wake of large-scale incidents, it would continue to lobby for additional government funding, said Mr Swift.
In the meantime, work was under way to compile a "robust" recovery plan and financial summary which would set out what further repair and flood defence measures were needed in the Calder Valley and how to fund them.
Related Internet Links
The BBC is not responsible for the content of external sites.