Leeds hit-and-run girl Sabah Saleem's survival 'battle'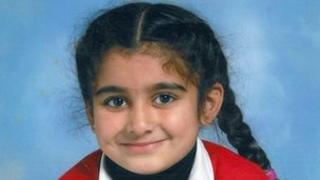 The father of a 10-year-old girl left critically injured after a hit-and-run crash in Leeds has described his daughter's fight for survival.
Sabah Saleem and her brother Rayhaan, four, were hit by a car in Brudenell Road, Hyde Park, on 18 August.
While Rayhaan was discharged from hospital a few days later, Sabah has remained at Leeds General Infirmary and has undergone several operations.
Her father, Mohammed Saleem Rafique, said she still faced "a long battle".
Three men who were arrested in August over the incident remain on bail until February.
'Indescribable' scene
The two children were knocked down as they returned from a shop with food for the family's Eid celebrations.
Mr Rafique said the scene he and his family were faced with following the crash was "indescribable".
"I saw my boy lying on the floor and looked around and saw my daughter. She was just lying on the floor, bleeding and breathing heavily.
"It's just something I don't ever want to see again in my life."
Since the accident surgeons had operated on his daughter seven times in an effort to treat her life-threatening injuries, said Mr Rafique.
These operations have included fitting a device to Sabah's head to control excess fluid which was causing swelling inside her skull.
'She's a fighter'
"It's been really challenging for both her and us," he said.
Mr Rafique said while it would be some time before his daughter was able to return home from hospital, the staff treating Sabah were "angels" and "heroes".
"It's going to be quite a long battle for her because of her injuries, but she's a fighter.
"She knows she's got a very strong family who are with her - her parents, her cousins, her uncles. Everybody is with Sabah."