BBC plans Bollywood-style live opera for Bradford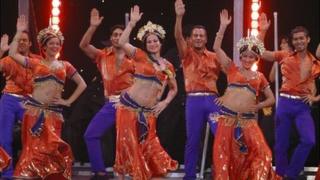 A live Bollywood-style production of the opera Carmen is to be produced by the BBC in Bradford.
Bollywood Live will include original music, pop songs and special arrangements of Bizet's themes for the work which was first performed in 1875.
Commissioned by BBC Three and BBC North, the event will be be held in Bradford's City Park on 9 June.
The production will also involve the local community and audience participation, the BBC said.
The event will follow the story of Karmen who is bored with her job and obsessed with dreams of film stardom.
The Bradford girl hopes the arrival of an Indian film crew, to produce a film version of the opera Carmen, will be her big break.
Zai Bennett, controller of BBC Three, said: "BBC Three has a great track record of producing spectacular live events such as Frankenstein's Wedding and Manchester Passion.
"We are delighted to be able to bring the excitement and glamour of Bollywood in this unique way to our viewers."
The production will feature an original score by Kuljit Bhamra, whose projects have included working with Andrew Lloyd Webber on the West End musical Bombay Dreams.
He was also a music consultant for the stage adaptation of The Far Pavilions.