Dewsbury A&E downgrade plan 'risks patient lives'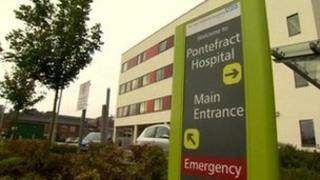 Campaigners say a "war" has been started against plans to downgrade A&E services at Dewsbury Hospital amid fears lives will be lost.
More than 5,000 people have signed a petition against proposals by Mid Yorkshire Hospitals NHS Trust to downgrade the unit.
Kirklees councillor Paul Kane said: "It is war. Lives are going to be lost."
Stephen Eames, trust chief executive, said lives would not be lost and patients would receive better care.
The proposals will help the trust save £24m by April but it will still face a £26m deficit.
'Horrified'
The trust has put forward a "preferred" option which would see Dewsbury's A&E department being downgraded into an emergency care unit.
This would provide care for minor injuries and illnesses and emergency services would be based nearly nine miles away at Pinderfields Hospital in Wakefield.
Intensive and high dependency care services at Dewsbury would also be scrapped.
Earlier this month, it was decided the plan would be put out to public consultation with a final decision expected to be made in the summer.
Doctor Timmy Gowdry, from Albion Street Medical Centre in Dewsbury, said he was "horrified" by the proposed shake-up.
"I hate to say it but there is always the possibility of the danger to lives.
"We should all unite together and fight for our services and we should resist any changes that is not fairness to all hospitals."
Mr Eames said more lives would be saved because A&E services would be significantly improved at Pinderfields.
"The point about the change is that in that centre in the future you would have a consultant 24 hours, seven days a week at your front door and at your bedside, something we don't provide in any of our hospitals at the moment and that is better.
"It will save more lives and improve those patients' experiences."