M&S 'rooted in Leeds market tradition'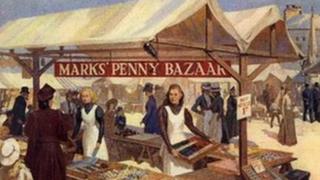 More than a century after one of the UK's most recognisable high street brands started trading the firm is going back to its roots with a stall in a city centre market.
It has returned to the very market building, in Leeds, where it was founded, in a move councillors hope will bring additional shoppers in.
The opening comes 129 years after Michael Marks, a Russian-born Polish refugee opened a stall at Kirkgate Market in 1884 - the small beginning from which Marks and Spencer evolved.
The market business started as a penny bazaar with a borrowed £5 and carrying the slogan 'Don't ask the price - it's a penny.'
The move into the market comes after a council-commissioned report in 2012 recommended the site be reduced in size by 25%.
'Where it all started'
The new stall will open beside the famous M&S clock in market, and is expected to resemble the original penny bazaar.
Councillor Gerry Harper, who is described by the city council as a "market's champion", said he hoped the stall would draw shoppers in to the market out of curiosity.
He said: "People come and have a look at it, they'll want to see where [M&S] first started.
"That can only be a plus for the market and help all the other stallholders."
The opening will come after a 70,000-piece Marks & Spencer archive and exhibition went on display in the University of Leeds, in March last year.
Included in that exhibition are items that would be familiar to generations of shoppers including clothing, toys, advertising materials and business papers.
The M&S archive also includes more than thousands of items, many of which have never been seen publicly before, from products and photographs through to company literature and advertising.
After a decade in the market as a sole trader, in 1894, Michael Marks formed a partnership with Yorkshireman Tom Spencer, a former cashier with a retail firm.
By 1904, Marks and Spencer were able to put the business on a firmer footing opening shop premises at the, then recently-opened, Cross Arcade in the city.
Tom Spencer died in 1905, followed by Michael Marks two years later.
Self-service
Despite the deaths of both founders their fledgling business survived and began to flourish.
Marks and Spencer Limited became a public company in 1926 and the famous St Michael trade mark was registered two years later.
A now-commonplace shopping experience - self-service - was seen as a revolutionary move in retailing when in 1948 the company held its first shopping trial at the Wood Green store in London.
The company expanded overseas and in 1975 Marks and Spencer's first stores in opened in Paris and Brussels.
In March, after 130 years of trading, visitors to Leeds market will be able to span the decades and see where those who bought goods for a penny spawned a global retail giant.
In 2009, M&S claimed that 21m people a week entered one of the company's stores.