Dewsbury Hospital A&E downgrade plan put to public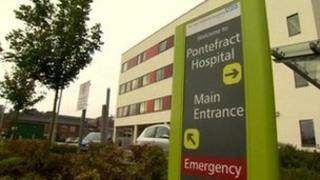 Proposals which could see A&E services at Dewsbury Hospital downgraded are to be put to public consultation.
The plans, by Mid Yorkshire Hospitals NHS Trust, would see Wakefield's Pinderfields Hospital become the district's main A&E department.
The trust has to save £24m by April but will still face a £26m deficit.
NHS Calderdale, Kirklees and Wakefield District Cluster Board unanimously voted to support a consultation on the plans which will begin later this year.
'High quality care'
The board backed a consultation over the Mid Yorkshire Trust's "preferred" option at a meeting held at Ossett Town Hall.
Two options were considered for the trust's three hospitals, Dewsbury, Pinderfields and Pontefract.
The preferred option, which would involve capital funding of almost £38.5m, would see Dewsbury losing its A&E unit as well as intensive and high dependency care.
Patients requiring such services would have to travel nearly nine miles to Pinderfields.
Both options considered by the Cluster Board included the downgrading of Dewsbury Hospital's maternity unit.
A report by the Mid Yorkshire Hospitals NHS Trust stated that doing nothing was "not an option for both clinical and financial sustainability".
Mike Potts, chief executive of NHS Calderdale, Kirklees and Wakefield District, said the proposed changes were "very significant".
He said: "Our Board today accepted that the option put forward by the Trust would indeed secure high quality care into the future."
Stephen Eames, chief executive of the Mid Yorkshire Trust said "radical changes" were needed to ensure its services remained "clinically safe and financially viable".
'Critical time'
However, Mehboob Khan, Labour leader of Kirklees Council, said he would "stand shoulder to shoulder" with local residents to fight the proposed changes at Dewsbury hospital.
"This is a critical time and vulnerable communities are going to be hit tremendously hard," he said.
Councillor Robert Light, leader of Kirklees Conservatives, said it was "vital" to keep an A&E department at Dewsbury.
"The trust needs to understand that the hospital services a large area outside Dewsbury, Batley and the Spen Valley, and that such a proposal will seriously reduce the ability for thousands of people to access quality A&E services within a reasonable distance."
Former nurse Wendy Senior, from the Save Local Hospitals Services Group, said the proposals were "appalling".