Archbishop of York 'baffled' by Leeds heart unit plan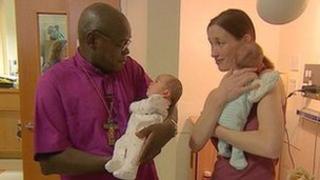 The Archbishop of York has said he is "baffled" by a proposal to stop children's heart surgery in Leeds.
A review concluded in July that surgery at Leeds General Infirmary (LGI) and two other hospitals should stop so care could be concentrated at fewer sites.
Visiting the unit, Dr John Sentamu said the plan "does not make sense" when all children's services are on one site.
An independent panel is carrying out a review of the decision and is due to report its findings in March.
'Very long distance'
If implemented, the proposals - announced in the summer by the Joint Committee of Primary Care Trusts (JCPCT) - would mean the end of children's heart surgery in Leeds as well as at Leicester's Glenfield Hospital and London's Royal Brompton.
Treatment would instead take place in Newcastle, Liverpool, Bristol, Birmingham, Southampton and two London centres.
Senior medics have said children's lives could be at risk if paediatric heart surgery ends in Leeds.
During his visit to the unit, Dr Sentamu met children, families and doctors.
The reasons for keeping surgery at the LGI were much greater than the reasons for stopping it, Dr Sentamu said.
"I really am baffled. Can you imagine children from here having to trail a very long distance to Newcastle? It does not make a lot of sense to me."
Sir Neil McKay, chairman of JCPCT, said members listened "very carefully" to the views given during consultation before making a decision on changes to children's heart surgery.
"Co-located services and population density were key issues that were given extensive consideration by the NHS when making its decision, which are a matter of public record.
"Since the NHS's decision these issues have been included in a referral to the Secretary of State and are currently subject to an independent review by the Independent Reconfiguration Panel."