Gabby Logan appointed Leeds Trinity Chancellor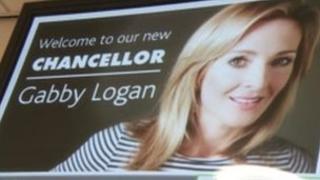 Television sports presenter Gabby Logan has been appointed as the first Chancellor of Leeds Trinity University.
The university was one of 10 institutions granted university status in December 2012.
Logan, who was born in Leeds, said she was delighted with the appointment in the city she still regards as "home".
Leeds Trinity was founded in the 1960s as a teacher training college and became a university college in 2009.
Logan said: "I'm a firm believer in the importance of higher education, having seen the enormous benefits that my own university experience has given me."
She added that the new university had a "fantastic ethos."