Friends of Bramley Baths start running pool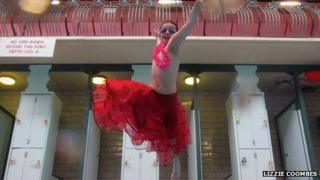 A group of local residents has taken over the running of a Grade II listed Edwardian swimming pool following fears it could be closed.
The pool in Bramley, Leeds, is now managed by the Friends of Bramley Baths on a not-for-profit basis.
In 2011 Leeds City Council cut Bramley Baths' opening hours, which prompted the community group to offer to run it.
The pool, which was built in 1904, officially reopened on Wednesday after a mass plunge on New Year's Day.
Bramley Baths is the only remaining example of eight bath houses originally built by the council between 1899 and 1904.
The council previously said it was a "special and important historical building".
Fran Graham, from the Friends of Bramley Baths, said volunteer residents in West Leeds had worked for more than 18 months to develop a business plan and recruit a professional team to manage the baths.
A mass fancy-dress plunge in the pool on New Year's Day marked a new era for the venue, which officially reopened on Wednesday.