West Yorkshire charity predicts rise in users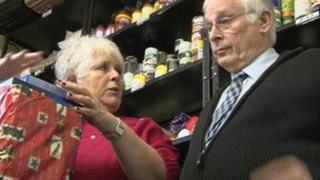 A charity which helps people in need said it expects to see its workload increase in 2013.
Wakefield-based Community Awareness Programme (CAP) said the number of people using its services rose by 26% in the last year.
The project provides food and clothing as well as advice and other support for the homeless and other vulnerable people.
CAP said the rise in users was due to a squeeze on household incomes.
Project manager Ernest Hibbert said on average more than 50 people a day used the charity's services.
Charity vital
At Christmas the organisation provided 400 hampers of food an other essential goods to families living below the poverty line.
Mr Hibbert said the rise in users was despite recent figures showing a fall in unemployment.
"If we are coming out of recession then we haven't seen it," he said.
"They lose their job, that brings stress on the family and before you know the family breaks, the houses go and they come to us."
One person using the charity's services is former steelworker Roy Bickerdyke, who lost his home after being made redundant. He said the charity was vital for homeless people.
"It's a good job there are places where you can go," he said.
"Get some food, get a bath and shower. There are clothing things available.
"Without this place it would be terrible."