Bradford Asian homes hit by gold thieves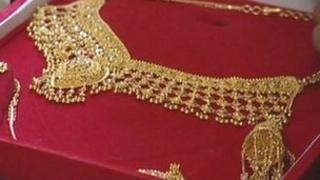 A spate of gold and jewellery thefts from Asian families in Bradford has prompted detectives to set up a special investigations unit.
Police in the city say criminals know many Asian households keep valuables in their homes for special occasions.
Rising gold prices are believed to be behind the thefts. Six men from Bradford have been arrested in the past month in connection with such offences.
The new police team has urged families to put valuables in safe storage.
Family heirlooms
Det Ch Insp Steve Thomas, the senior investigating officer in command of the team, said: "We have experienced a recent trend of offences across Bradford where jewellery has been targeted.
"An increase in the value of gold is suspected to be behind this type of criminality.
"Understandably, these crimes are causing some consternation within our communities as many families possess jewellery, often as heirlooms.
"To combat the issue, we have created a team of specialist officers who will concentrate solely on investigating offences and acting on any information they receive.
"Ensuring you do not advertise the fact that you have high value jewellery in your home and considering the secure storage of your belongings is also extremely important."
Police said they would also be targeting "unscrupulous jewellers who are prepared to accept stolen items".
Rashid Khan told BBC News how his home was recently burgled by thieves who took his wife's wedding jewellery, which was valued at about £5,000.
"The first thing I checked was the jewellery and it wasn't there," he recalled.
"I thought 'Oh my god, that is it, my life's finished'.
"You can say it has a value of £5,000 or £6,000 but that is just the monetary value. Really there is no value you can put on it, it's priceless."
Fortunately for Mr Khan, the police recovered the stolen valuables which he has now stored in a safe place.
'Horrific offences'
Police said they had joined forces with Bradford council to "respond to any community concerns" relating to the recent thefts.
The council's deputy leader, Imran Hussain, said: "These horrific offences simply will not be tolerated.
"We welcome the establishment of a specialist unit and will be working very closely with the police to ensure offenders are brought to justice using the full force of the law.
"Families with high value jewellery should carefully consider security measures including safety deposit boxes."