Leeds and Chelsea fans warned over trouble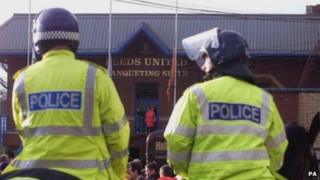 Football intelligence officers were at Elland Road to spot potential troublemakers as Leeds played Chelsea for the first time in eight years.
A crowd of 33,816 fans who watched Leeds lose the Capital One Cup quarter final 5-1 were earlier urged by police to be on their best behaviour.
Banning orders would be imposed on anyone convicted of disorder around the game, West Yorkshire Police had warned.
As the game ended police said there had been no reports of any major trouble.
Officers from the Metropolitan Police had said they would work with West Yorkshire officers to identify any troublemakers.
The clubs' last meeting in May 2004 saw Chelsea gain a 1-0 victory over a Leeds side already relegated from the Premier League.
Older fans of the two clubs will also remember a bruising FA Cup final replay at Old Trafford in 1970.
Chelsea will now play Swansea City in the semi-finals while Bradford City, victors over Arsenal, meet Aston Villa.