Marcin Kasprzak, who buried girlfriend, in explosives sentencing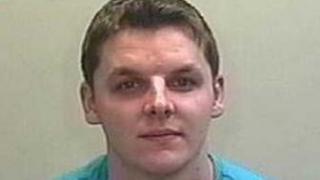 A man jailed for burying his girlfriend alive has been given further sentences after explosives were found in his house.
Marcin Kasprzak was sentenced to eight four-year terms after explosives were found at the home in Huddersfield he shared with Michelina Lewandowska.
In 2011 Kasprzak attacked her with a stun gun before burying her in a box .
The sentences will run concurrently with his 20-year term for attempted murder.
Miss Lewandowska was in Leeds Crown Court to see her former lover sentenced.
Engagement ring
Kasprzak was charged with the additional offences after police investigating the attempted murder found large amounts of chemicals, formulae and recipes for making explosives at his home.
The eight sentences are to be served concurrently.
Marcin Kasprzak attacked Miss Lewandowska with a stun gun at their home in Penistone Road, Huddersfield, in May 2011.
She was bound, gagged and buried in a cardboard box under soil, leaves and an 88lb tree branch in woodland.
Miss Lewandowska escaped from the box after about an hour by using her engagement ring to cut herself free.
Kasprzak was sentenced to 20 years for attempted murder in January 2012.
The two offences were unrelated the judge said.