Alf Cooke print works building to reopen as college campus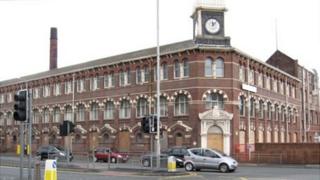 A Leeds landmark, the grade II-listed Alf Cooke print works on Hunslet Road, is undergoing a £15m renovation.
The revamp will see it used as a new campus for Leeds City College at the start of the academic year in 2013.
Chromolithographic printer Alfred Cooke started his printing business in 1872 but the building was burnt down in 1880 and partly destroyed by fire in 1894.
The print works was finally rebuilt that year with the company then able to boast it was the largest in the world.
It is this Grade II listed building, at the junction of Black Bull Street and Hunslet Road, with its prominent clock tower, that is to reopen following closure in 2006.
When finished, the new campus will house the catering, food manufacturing and hair and beauty therapy departments, along with a refectory and administration space.
The clock, designed to resemble the Leeds Town Hall clock, had been stopped for decades but has been restarted during the current building work.
When the works was built it was advertised as the "largest, cleanest, healthiest and most completely fitted print works in the world".
The ground floor covered 8,000 sq yards (6,660 sq m) and the building was lit by "arc and incandescent" light.
'Printer to Queen'
The building had a workforce of 750 people.
On an advertising catalogue produced by the firm, Alf Cooke's was described as "Art Colour Printer to the Queen".
The three-storey building was built of red brick with stone and terracotta detailing with a four-storey brick mill building attached, along with a water tower and chimney.
The building's architect was Thomas Ambler, who was responsible for several buildings in Leeds including Grade II listed structures on Boar Lane and St Paul's House, Park Square.
Printing was a major industry in Leeds and by the early years of the 20th Century it employed more than 8,000 people in the city.