Tour de France: Yorkshire businesses 'glee'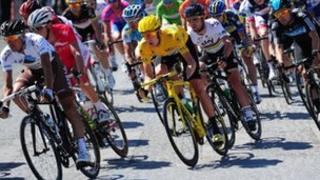 The last time the Tour de France came to Britain it is estimated that the regional economy in the South East was boosted to the tune of £88m.
So it is with justified optimism that the business community in Yorkshire is in celebratory mood after the announcement the county is to host the event's Grand Depart in 2014.
Some three million people are expected to make their way to Yorkshire during the opening stages of the Tour, making it by far the largest single event ever to be staged in the county.
"Yorkshire's businesses must be rubbing their hands together with glee," a Kent cycle shop owner told me when I visited the area.
Free advert
Kent benefited from staging Le Grand Depart back in 2007, before cycling achieved the wider public recognition reached this summer - before the Bradley Wiggins effect.
While £88m was the monetary prize London and the South East gained from the event, it is not the whole story.
For tourism chiefs it was a chance for the world to see what they had to offer, a great big free advert.
Hosting the Tour can put even the smallest town on the map - with TV coverage reaching a potential audience of 2.5bn in more than 80 countries. It is publicity beyond the wildest dreams of cash-strapped local authorities.
For others it was about a sporting legacy, getting people on their bikes, building cycle paths and improving existing cycle lanes.
A million spectators lined the route each day; those numbers could be far exceeded in 2014 as our new love affair with the sport shows no sign of waning.
It is foolish to think that Yorkshire winning this massive event will be a licence to print money for all businesses. Any in the path of the summer's Olympic Torch relay will know the fickle nature of a transitory event.
But there is no doubt that many will benefit.
Street parties
Hotels putting up the teams , or the media entourage of around 2,000 journalists, cafes feeding spectators lining the routes, street vendors with mementos of a once-in-a-lifetime experience.
During the 2007 event, organisers made the most of the party atmosphere with a whole string of festivals, carnivals, concerts, street parties, cycling events, markets, displays and exhibitions across London and Kent.
Festivities greeted visitors in Canterbury, whose 35,000 population more than doubled temporarily.
It is all a far cry from the tour's first trip to the UK in 1974, when the riders were confined to a circuit of dual carriageway near Plymouth.
Anyone who felt the summer's Olympics favoured the South is in for a treat, sport is about to get up close and personal with Yorkshire and we will be ready for it.