Leeds General Infirmary child ops ruling 'risks lives'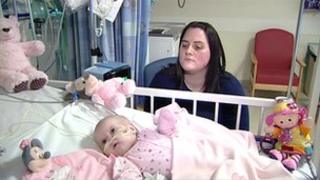 Children's lives could be put at risk if paediatric heart surgery in Leeds is ended, senior medics have warned.
A review concluded in July that surgery at Leeds General Infirmary (LGI) and two other hospitals should stop so care could be concentrated at fewer sites.
But a petition signed by 170 senior specialists claims longer journeys for treatment will endanger sick children.
Lord Ribeiro, of the independent review into the plans, said it would "listen to everybody we come across in Leeds".
'Common sense'
If implemented, the proposals - announced in the summer by the Joint Committee of Primary Care Trusts (JCPCT) - would mean the end of children's heart surgery in Leeds as well as at Leicester's Glenfield Hospital and London's Royal Brompton.
Treatment would instead take place in Newcastle, Liverpool, Bristol, Birmingham, Southampton and two London centres.
At the time they were announced, Sir Neil McKay, chairman of the JCPCT, said the proposals were based on the needs of children not the "vested interests" of hospitals.
The petition against the proposals, containing signatures from specialists across Yorkshire and the Humber, was handed to members of the Independent Reconfiguration Panel while on a fact-finding visit to the LGI.
Lead signatory Mark Darowski, a children's intensive care specialist at the LGI, said if paediatric heart surgery in Leeds did end it would mean a three-fold rise in journey times for children needing urgent treatment.
"There is a group of children with severe congenital heart disease who need to arrive at hospital in good time to get treatment, and if they do so then their survival rate is very good," he said.
"We have one or two deaths every couple of years with these children and more near-misses. The near-misses will turn into deaths if we increase transport times."
Mr Darowski said he hoped the Independent Reconfiguration Panel would reach a "common sense" conclusion.
Heart failure
Fallon Cardwell, from Rotherham, whose seriously ill 17-week-old daughter Freyja is being treated at the children's heart unit at the LGI, said any increase in journey times would be "scary".
"This time we got her here just in time. She could have died as she had gone into heart failure.
"To have to go to Birmingham or Newcastle just doesn't add up. It's not worth thinking about - putting a child's life in danger."
In a statement, Sir Neil said: "It's important to remember that children are safely retrieved over larger distances elsewhere in the country.
"For example, in an emergency, children in Cornwall are safely stabilised locally before being taken to Bristol for heart surgery if necessary."
Lord Ribeiro said: "We have come here with a completely open mind to listen and take evidence."
"I can say quite categorically it is not a rubber stamping exercise," he added.
The Independent Reconfiguration Panel into the JCPCT's proposals is due to report back with its conclusions in March.