Protesters say Brighouse nursery closure would be 'devastating'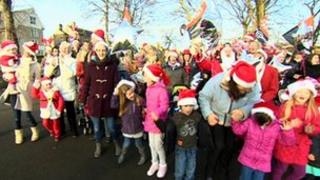 Parents and children have held a protest outside a West Yorkshire nursery which could have its funding cut next year.
Calderdale Council is holding a consultation on plans to withdraw subsidies from six day care centres, including Wellholme Park in Brighouse.
The authority said it needed to target its funds on vulnerable families and areas with high levels of deprivation.
But campaigners said closing Wellholme Park would be "devastating".
The other five children's centres which could have their day care funding cut are Elland, Field Lane, New Road, Siddal and Todmorden.
Tim Swift, Labour councillor and leader of the council, said: "Like every council we've had huge cuts in our budget... and because we're competing with the private sector [for nursery provision], we need a very good reason to provide these services."
But Conservative councillor Scott Benton, who was at the protest, said: "If the council choose to remove the subsidy it would have an absolutely devastating effect upon the families and children who rely so much on the centre."
The consultation ends on 15 February.