Leeds police arrest man over tyre-slashing on 30 cars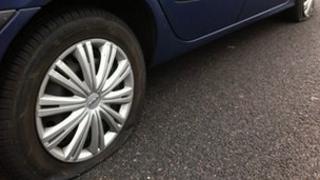 A man has been arrested in Leeds on suspicion of slashing tyres on dozens of cars in one night.
Police said they received reports of tyre damage of 30-40 cars around Cottingley Drive, Cottingley, on Thursday morning.
A 44-year-old man is being held in custody.
West Yorkshire Police said they had put on extra patrols in Cottingley as part of the investigation and to reassure people living in the area.