Tropical World revamp to include crocodile bridge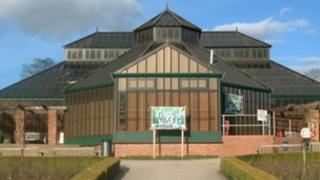 A new crocodile enclosure, complete with a viewing bridge, is to be built as part of plans for a £720,000 revamp of Tropical World.
Leeds council, which manages the Roundhay Park attraction, said it would give visitors a close-up view of the Morelet's crocodiles.
If councillors agree to plans, it would be the most significant improvements since first opening in 1984.
A semi-dark aquarium would also be built as part of the refurbishment.
The three crocodiles arrived at Tropical World in 2009.
Funding improvements
The council said they had grown significantly and were now ready to move into a larger purpose-built enclosure where they could continue to their expected full size of nine foot.
The refurbishment proposals have been drawn up following feedback from visitors as well as consultation with other groups.
Work would be carried out in two stages to enable the attraction to remain open throughout.
The first phase, starting in January and ending in March, would include the creation of the crocodile enclosure, a new bigger entrance and children's zone.
The second phase would be expected to follow in winter 2013 and finish in April 2014.
The improvements would be funded by the council and a donation from the Ziff family, patrons of the attraction.