'Strong bond' of Leeds LILAC co-housing residents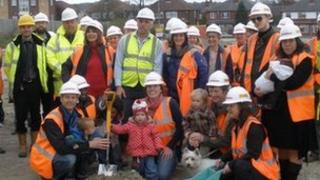 It began as a conversation between friends with the same ideals.
They wanted to be neighbours, to form a community, to raise their children together and live in eco-friendly, warm, affordable homes.
Now, more than five years on, they are weeks away from being given the keys to their dream.
"It's been such a story of perseverance and dedication, really. It's been an amazing journey. This last bit's the hardest because it's just counting the days now until we move in," said Paul Chatterton, one of the soon-to-be residents of LILAC.
LILAC, or Low Impact Living Affordable Community, is a development of 20 straw bale homes on the site of a former school in Bramley, Leeds, and is said to be the UK's first affordable, green co-housing project.
'UK first'
Dr Chatterton and his partner Tash Gordon are among the founding members of the scheme.
Dr Gordon, the project's treasurer, said: "The UK has several other co-housing projects, several other ecological projects and lots of affordable housing projects but LILAC will be the first project that does all these three things together."
After forming a Mutual Home Ownership Society, which will own and manage the homes and lease them to residents, LILAC's members negotiated the purchase of the plot of land from the city council and appointed architects to help them design the scheme.
And while a construction firm has been building the homes this year, LILAC's members have been busy forging their community.
They have held the necessary business meetings but have also been getting to know each other, with regular pub lunches, walks and other get-togethers.
Dr Chatterton said: "We are building houses, that's the easy bit, but we are also building a community. Anyone can build houses. but it's really difficult to build communities.
"We put a lot of effort into that, how we make decisions, how we have fun together.
"We want these new houses to be full of happy, fulfilled people."
'Amazing' people
Eden Ballantyne signed up after seeing an advert for LILAC in a library and meeting members.
"I thought 'these people are amazing, I want them to be my neighbours'," he said.
"We do get on. I have babysat for a few people, we help each other out. I didn't have many friends here and now I have loads."
LILAC's community includes nine children, with the youngest, Bonnie, born three months ago.
For Bonnie's mother Lucy Thompson and her husband Rik, who also have a two-year-old daughter Amber, one of LILAC's biggest draws was its community ethos.
Mrs Thompson said: "Having such a close network of other families and other children for the kids to grow up with, forge strong bonds with. and having the support of not just other families in LILAC who have children but the older people as well, I've found already to be a big help and support."
LILAC has been based around the Danish co-housing model, which mixes residents' needs for their own space in private homes with shared facilities in a co-house.
'Huge effort'
The co-house, which has cooking, eating and laundry facilities and meeting space, will host weekly shared meals and social events and will occasionally be available for use by the wider community.
Jenny Pickerill, a senior lecturer at Leicester University who blogs about eco-homes, has visited the site.
She said: "They seem to have put a huge amount of effort into thinking about the community and being inclusive.
"They have thought about things like the community house having its entrance from the main road and therefore being welcoming to local residents and thinking about how that would be used and how they can interact. I was quite impressed they've done that."
While LILAC's residents are making efforts to build their community and they are getting on well, they concede that there will be times of conflict.
Fran Lee, who has been involved with the project almost from the beginning, said: "Other co-housing groups say the issue that causes the most trouble is communal food in the common house and pets. And they were right.
"I think we are realistic. We will disagree, we're bound to, and we'll just have to find a way out of it."