Halifax's Piece Hall restoration plan approved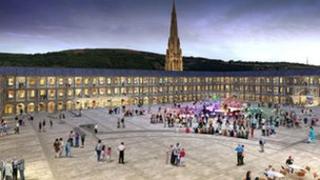 Plans have been approved to transform an 18th Century cloth hall in West Yorkshire.
Restoration of the Piece Hall, a Grade I-listed building for trading cloth in Halifax, was supported by the planning committee of Calderdale Council.
The £19m project is due to start in late 2013 with the help of a Heritage Lottery Fund grant of £7m.
Barry Reynolds, project director, said it was about bringing the Georgian hall back into connection with the town.
Mr Reynolds said "It is about creating a high value quality public space and giving people a reason to spend more time there, rather than passing though it."
He said the project would create a new opening in the Piece Hall wall and two water features in the building's courtyard, a new planned heritage centre would help people understand the history and economic impact of the building.
'Enormous impact'
There will also be a four-storey extension to the building to be used for commercial purposes including restaurants and cafes.
Mr Reynolds said: "If you are looking for a town making a statement about itself - this is the building, even now it makes an enormous impact."
The hall is named after the pieces of cloth that were sold there.
When it was built in 1779 the hall had more than 300 rooms around the central courtyard and is a testament to the importance of hand-woven textiles to the economy of the, then, West Riding of Yorkshire.
The 1996 film Brassed Off featured a scene set in the Piece Hall's courtyard.
The project will eventually connect with other new developments at the nearby Square Chapel and a new £10m town library.
When the work is completed in 2015 the Piece Hall will transfer to an independent trust.