Joyce Moulson described as 'magic' mother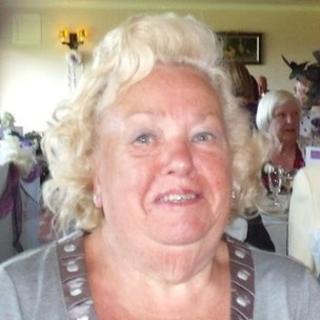 A woman who died after youths threw stones at her home and smashed a glass door pane was a "magic" mother, her daughter has said.
Joyce Moulson, 84, collapsed and died in hospital after three youths attacked her home on Fair Road in Wibsey, Bradford, on Tuesday night.
Four boys were arrested on suspicion of manslaughter. Three are on bail, while the fourth was released without charge.
Mrs Moulson's daughter Julie Smith said youths had been a nuisance in the area.
She said her mother "was certainly not terrorised by them".
'Truly shocking'
Mrs Smith said: "I used to tell her off frequently for having her back door open.
"She never felt threatened, she never felt that she needed to and she would just sort of brush it off. She really just enjoyed living where she lived and how she lived."
Mrs Smith said Mrs Moulson was known for her "glamorous blonde hair and dress style", and was a "magic" mother.
Mrs Moulson, a widow, had one daughter and two sons, Jason and John, and five grandchildren. One of her grandchildren was with her when she collapsed.
Reading a family statement at a news conference, Mrs Smith said: "Mum and her neighbours... have seen intrusions into gardens and broken windows in greenhouses."
She said Mrs Moulson saw uninvited youths as "an inconvenience and was certainly not terrorised by them".
"Wibsey is a good area of Bradford, only spoilt by the antics of a few," she said.
Earlier, a post-mortem examination showed Mrs Moulson died from a heart-related illness.
Ralph Berry, Labour councillor for Wibsey, who knows Mrs Moulson's family, said: "It's a blow for a close village, I think we all struggle with anything to compare it to.
"For something like this to happen is truly shocking."
A 13-year old and two 12-year-olds questioned over Mrs Moulson's death have been bailed pending further inquiries. Another 13-year-old was released without charge.