Halifax library demolition to go ahead after council vote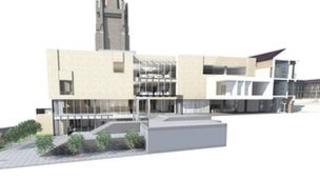 Councillors in Halifax have voted in favour of plans to demolish the town's library and build a new one for £10m.
Calderdale Council has said it favours replacing the current building with shops, and a new library would be built near the town's landmark Piece Hall.
Campaigners who protested earlier outside the meeting of the full council said the vote was "close".
The Halifax Civic Trust believes the plans need to be looked at in "much greater detail".
"The vote was much closer than expected... the council is deeply divided on this," said John Hargreaves, chairman of trust.
"We want the council to really examine the implications for downsizing - the cost implications, and we want them to look closely at the community facilities that will be lost in the relocation."
A Calderdale Council report said the current library was in a poor state of repair and it was "not effective or practical" to consider refurbishment.
A survey, carried out earlier this year by the Labour-run council, reported 39% of 1,496 people questioned were in favour of a new retail development.