Royal Mail blames 'slippy path' for stopping mail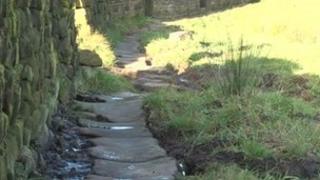 An 82-year-old woman living in a rural part of West Yorkshire has not received her post for two months because Royal Mail claimed her footpath was "slippy".
Enid Sugden, from Sowerby Bridge, said she "had no problem at all" with mail deliveries in the 50 years she has lived at the address.
Royal Mail said Ms Sugden's footpath was covered "in algae and moss" causing a postwoman to slip recently.
Officials proposed an outside mailbox, but Ms Sugden declined the offer.
Ms Sugden, whose rural property is accessed by a stone footpath on one side and a narrow road on the other, claimed she had not been told by Royal Mail that deliveries had stopped until a month ago, when she contacted officials.
She said mail deliveries were important because "I do have hospital appointments and bank statements".
'Extremely rural'
Royal Mail said it had informed Ms Sugden her mail would not be delivered because the conditions were "hazardous", and stopping deliveries was "always a last resort".
In a statement the company said: "The arrangement is in place where the postman or postwoman will deliver mail when conditions underfoot are dry via the road.
"As the address is extremely rural we have also offered the customer to have her mail delivered to a nearby address which is at the top of the lane.
"This offer has not been taken up."
Ms Sugden said: "It is narrow and that's where they intended putting a box at the top of the lane, for me to go an pick up my own letters. But if they do that I can't get me car out."
She said she intended to invite Royal Mail to assess her footpath.
"I'll walk [the footpath] with them and see what problem they had."