Public inquiry into Leeds rail station plan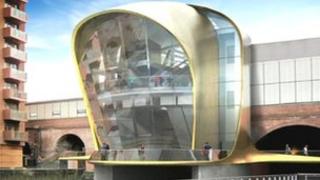 A public inquiry into plans for a £15.9m pedestrian entrance at Leeds railway station is under way.
The proposed entrance, to the south of the station next to the river Aire, will give direct access to and from the Leeds waterfront area.
The inquiry, which was ordered by the secretary of state for transport, is taking place at Bewley's Hotel.
If the scheme is approved, work on the entrance is expected to start next year and could be completed by summer 2014.
Councillor James Lewis, chairman of Metro, said the public inquiry was a "necessary part of obtaining the Transport and Works Act Order", which would allow for the construction work to start.
"We know from previous consultations that the scheme is popular with passengers who approach the station from the south, and it will relieve pressure on the existing entrances."
Leeds City Council granted planning permission for the new entrance in May 2010.
Funding for the scheme has come from the Department for Transport, which has provided £12.2m, West Yorkshire's Local Transport Plan and Leeds City Council.