Mid Yorkshire Hospitals NHS Trust opens talks with union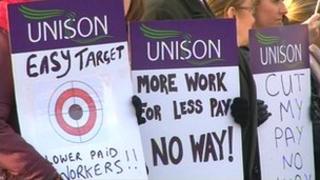 Unions fighting potential job cuts at three NHS hospitals in West Yorkshire have been invited to talks following a three-day strike by clerical and administration staff.
Unison took action last week after 74 employees were sent redundancy letters.
The Mid Yorkshire Hospitals NHS Trust said it had to "review and reduce its pay bill" to save £24m by April 2013.
The meeting is due to take place on Wednesday. The union said it hoped to "engage in constructive negotiations".
The trust said it hoped unions would "engage in constructive discussions to recognise and support the need to make these workforce changes".
'Escalate action'
Jim Bell, Unison's regional organiser, said the union would be attending the meeting provided the trust was looking to negotiate.
"If they put forward constructive proposals on mitigating the effect on our members then we'll constructively engage," he said.
"If we don't make any progress by the end of the week, then we'll give notice to escalate action and it'll be more than a three-day strike."
Stephen Eames, interim chief executive of the trust, said: "Throughout the process we have worked closely with affected staff and their unions and we remain open to constructive discussions.
"Our absolute priority is to provide safe, high quality sustainable care for our patients. To do this we must have a workforce that is financially viable but which is also designed to best meet our service needs."
Last week's action by Unison members at hospitals in Wakefield, Dewsbury and Pontefract followed a ballot in October which saw 88% of those administrative and clerical staff balloted voting in favour of strike action. A one-day strike was also held earlier in November.
Mr Bell said 370 members were affected by the changes and that some faced pay cuts of between £1,700 and £2,800 a year.