£1.2m birth centre opens at Bradford Royal Infirmary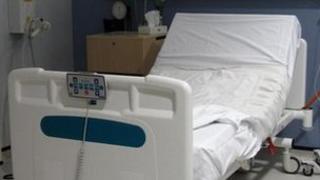 A new £1.2m birth centre has opened at a hospital in Bradford.
The seven-bed birth unit at Bradford Royal Infirmary is aimed at women who are not expected to have any complications during birth.
The centre is part of a £3.6m scheme to improve maternity and neonatal facilities at the hospital.
It is run entirely by midwives. Bradford Teaching Hospitals NHS Foundation Trust said it had invested £400,000 in recruiting 37 new posts.
The trust said the facility, which took five years to complete and includes two birthing pools and iPod docking stations in all the rooms, was "very exciting for women across the city".
Consultant midwife Alison Brown said: "We want women to feel as if it's their space and very comfortable in it with us.
"Our obstetric labour ward is right next door to the birth centre and doctors can get here very promptly if there are any problems."