Wetherby racing abandoned after flood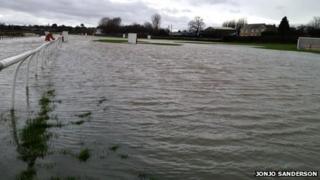 A racecourse in West Yorkshire has cancelled a meeting on Wednesday due to flooding.
Chief executive of Wetherby racecourse Jonjo Sanderson had hoped there was a "slim chance" the meeting would take place.
But heavy rain over the weekend saw swathes of the course which sits alongside the A1 trunk route under water.
Mr Sanderson said it was the fourth time the course had flooded in 2012.
He earlier said: "The way the water is on the track now, I just can't see it moving between now and Wednesday to leave it in a condition that we can run safely."
An inspection had been due to take place at about 14.00 GMT on Monday, but by lunchtime a decision had already been taken to abandon the meeting.
'Can't predict'
The Met Office has issued an amber weather warning across Yorkshire and the Humber, with more rain expected through early parts of the week.
Mr Sanderson said meetings on 14 January, 4 February and 29 April had had to be cancelled due to poor course conditions.
"Being a National Hunt racecourse, we're used to abandoning race meetings, normally we lose three a year on average, primarily through frost and snow.
"We've already lost one race meeting at a time when we would normally be making sure these race meetings take place.