M1 driver jailed for causing death of PC Mark Goodlad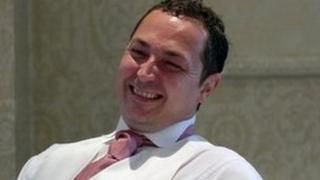 A lorry driver has been jailed for causing the death of a police officer when his vehicle strayed on to the hard shoulder of a motorway.
PC Mark Goodlad, 41, of Goole, East Yorkshire, was helping a stranded motorist when he was killed on the M1 near Wakefield in October 2011.
Andrew Abernethy, 45, of Rembrandt Walk, Oldham, previously admitted causing death by dangerous driving.
A judge at Leeds Crown Court jailed him for two years and nine months.
PC Goodlad had been an officer with West Yorkshire Police for 10 years. He left a widow, Helen, and a teenage son, Ben.
In a statement, Mrs Goodlad said: "We all know that Mr Abernethy did not set out that day with the intention of taking a life.
"But it's without doubt that he is solely responsible for the death of my husband Mark.
"Mark wasn't just a part of my life, he was my life. There are no words to describe how much I love and miss him.
"He never overlooked an opportunity to help people because that's why he joined the force and that's where he found himself that day, at the side of a lady needing help.
"Mark died doing what he did best. He was a hero at work and a hero at home to his family."
Eye pain
After veering on to the hard shoulder, Abernethy's lorry trapped PC Goodlad between his police car and another vehicle.
Sharon Burgess, the woman PC Goodlad stopped to help, suffered minor injuries but the court heard she also suffered severe psychological problems following the crash.
Last month, when Abernethy pleaded guilty, the court heard how it had still not been established why the crash happened.
Prosecutors said the incident showed classic signs of being a "sleep-related" collision and the lorry had travelled down the hard shoulder for up to 10 seconds.
However investigators found no evidence Abernethy had worked excessive hours or not slept.
The court heard that the defendant maintained he was distracted because he had a pain in his eye.
Judge Scott Wolstenholme said with no evidence to support the prosecution's theory, he had to sentence on the basis of the defendant's version of events.
He told Abernethy: "You hadn't been paying attention to the road for a considerable period of time in driving terms, all the while, trundling along in that enormous truck at 50mph."
The judge said it would have been "obvious to a competent and careful driver that driving in that way would be dangerous".
Abernethy was also banned from driving for three years and ordered to take an extended test on his release.