Protest held over Halifax library demolition plans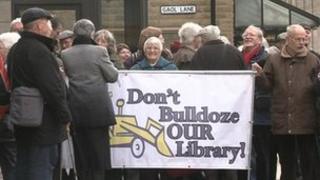 Campaigners against plans to demolish Halifax's central library and archives have held a protest in the town.
Residents gathered outside the library, in Northgate, ahead of a council meeting on 28 November when plans for a new £10m building will be discussed.
Calderdale Council has said it favours replacing the current library with shops, with a new library to be built near the town's landmark Piece Hall.
Protesters said the existing library should be refurbished instead.
'Flawed' consultation
A Calderdale Council report said the current library was in a poor state of repair and it was "not effective or practical" to consider refurbishment.
A survey carried out earlier this year by the Labour-run council reported 39% of 1,496 people questioned were in favour of a new retail development.
But Anne Kirker, coordinator of the Don't Bulldoze Our Library (DBOL) campaign, said the council's consultation had been "very flawed and biased".
"It was aimed at giving the council the answers they wanted and it was quite confusing," she said.
"But when people in Calderdale were asked whether they wanted the library and archives to stay on the present site, a majority said they did.
"Of course we want a better town centre, but we don't think keeping the library here means the town centre can't be regenerated and that we can't get good shops."
'Balance interests'
Tim Swift, leader of the council, said the proposed new library would be more accessible to local residents as it would be closer to public transport links.
"It's about making the best use of the space within the town to balance everyone's interests and needs," he said.
Halifax Civic Trust said it supported the DBOL protesters, describing the planned demolition of the library as "unnecessary" as it was "hugely valued" by residents.
If the plans are approved, it is expected to open in late 2015.