Clement Desmier murder: Crimewatch callers give names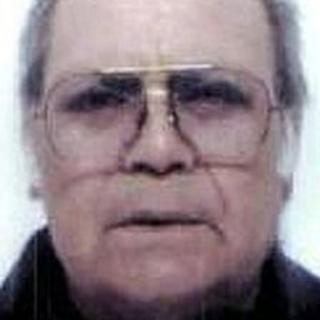 Detectives investigating the murder of a 68-year-old man in Bradford are following "significant" new leads following a television appeal.
Clement Desmier, who was known as Butch, was found dead at his home in Rowlestone Rise on 23 August. He had been stabbed more than 40 times.
Police want to trace three men seen at his home around the time of his death.
The detective leading the inquiry said two callers had named potential suspects after the Crimewatch appeal.
A reconstruction of Mr Desmier's last known movements was shown on the programme.
'Brutal murder'
A total of 20 calls were received following Wednesday night's appeal.
Det Supt Mark Ridley, of West Yorkshire Police, said: "We have had a really pleasing response... a number of interesting calls and two in particular suggesting names that are of great interest to the inquiry.
"Officers now in Bradford are looking into that information.
"We really need names putting forward to the investigation so we can identify who exactly is responsible for this brutal murder."
Mr Desmier was a former musician who had lived on the Ravenscliffe Estate in Bradford for 20 years and was well known in the local area.
When police were called to Rowlestone Rose on 23 August they found Mr Desmier's body and discovered his home had been ransacked.
He had suffered about 70 separate injuries, including 40 stab wounds.
Adelle Peterson, Mr Desmier's daughter, said: "The last thing I think about every night is how he died and as much as I want to believe it happened quickly and I prayed that he wouldn't have pain I know he did and I know he suffered.
"You try and try to think of the good times, the better times and the best times but it's always the worst vision you can possibly imagine that is the last in your head."
Detectives want to speak to a man seen accompanying Mr Desmier into his home on 22 August.
Two other men seen outside the house in the early hours the following day are also being sought.
The Crimestoppers charity is offering a £5,000 reward for information which leads to a conviction in the case.