Car transporter sheds load on M1 near Wakefield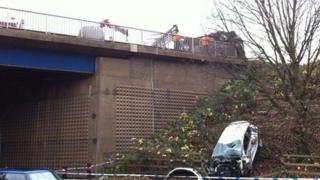 Part of the M1 in West Yorkshire was closed for several hours after a car transporter overturned and shed its load.
The crash happened near junction 39 of the northbound carriageway near Wakefield at about 10:25 GMT.
One car landed on the opposite carriageway, while another went over a bridge and landed on an embankment next to the A636 below.
The carriageways between junctions 38 and 39 reopened at 17:50 GMT.
The driver of the transporter, which was carrying nine cars, suffered minor injuries. No other vehicles were involved.