Bulholme canal lock has 1,000 visitors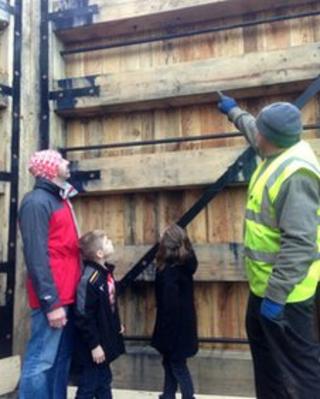 More than 1,000 visitors visited a drained canal lock in West Yorkshire on Sunday to see a new set of lock gates that have been craned into place.
Bulholme Lock on the Aire and Calder Navigation, near Castleford, has been fitted with a new set of "head" or top gates, the Canal and River Trust said.
Visitors walked along the length of the 460ft (140m) drained lock.
Eric Walker, supervisor for the project, said: "People were amazed by the sheer size of the lock chamber."
The lock holds 730,000 gallons of water and the existing pair of gates had been in place for 29 years.
The new gates were made at a workshop in Stanley Ferry, Wakefield.
The Canal and River Trust is a charity caring for 2,000 miles (3,200km) of waterways in England and Wales.
The Aire and Calder Navigation runs from Leeds to Goole with a branch from Castleford to Wakefield.