Mid Yorkshire Hospital Trust faces staff strike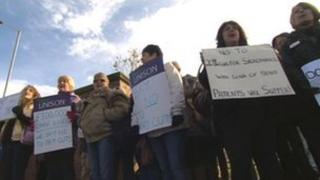 NHS clerical staff at three hospitals in West Yorkshire are planning a three-day strike over potential job cuts, according to the union Unison.
The action is planned to start on 20 November and follows the one-day strike on 1 November by medical secretaries and receptionists.
Mid Yorkshire Hospitals NHS Trust has to save £24m by April 2013.
The trust said it was open to discussions to halt the strike but would not compromise patient services.
However, Unison's Jim Bell said the trust would not negotiate about the cuts at Wakefield, Dewsbury and Pontefract.
Mr Bell, Unison's regional organiser, said members at the three hospitals had been forced to take the action because the trust management was refusing to negotiate on the threat to jobs and pay.
He said: "On top of the threat to axe 70 jobs, our members are also faced with losing up to £2,700 in pay."
Mr Bell said feelings were running very high and added pickets would be expected at all three hospitals.
Graham Briggs, Director of HR at The Mid Yorkshire Hospitals NHS Trust, said: "We are planning to provide continued patient care across all three days."
The trust "must look at ways in which it can reduce our pay bill whilst maintaining our services," he added.