Pat Regan killing: Son's 'relief' at inquest verdict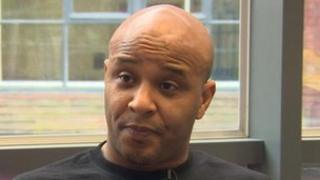 The son of a Leeds anti-gun campaigner killed by her mentally ill grandson has welcomed a coroner's verdict that his mother's death could have been avoided.
Pat Regan, 53, was stabbed in the head and neck by Rakeim Regan in May 2008.
Mrs Regan would not have been killed if her grandson had been assessed by a psychiatrist and detained, West Yorkshire's coroner found on Monday.
Shane Fenton, Mrs Regan's son, said he was relieved the inquest had found his nephew was not solely to blame.
"It feels like for years we've had our hands tied behind our backs to fight for justice, not only for my mum but for Rakeim," said Mr Fenton.
"Now we've learned the responsibility wasn't all his. The truth is out."
'People make mistakes'
The coroner's inquest heard that a GP referred Rakeim Regan to the crisis team on 30 May 2008, believing he was suffering from a psychotic illness needing urgent treatment or detention.
Mrs Regan took her grandson to the emergency department of St James's University Hospital, Leeds, the following evening.
He was assessed by a nurse and sent back to his grandmother's home with a sleeping tablet.
The body of Mrs Regan was found at her home on Marlborough Grange, Leeds, two days later.
Mr Regan, who was 21 at the time, was diagnosed with severe paranoid schizophrenia following her death and was ordered to be detained indefinitely at a secure psychiatric hospital after admitting manslaughter.
Coroner David Hinchliff recorded a narrative verdict at the end of a week-long inquest at Leeds Coroner's Court.
Leeds and York Partnership NHS Foundation Trust said it fully accepted the coroner's findings.
Mr Fenton said his mother would still be alive if Mr Regan had been examined by a specialist psychiatrist at an early stage.
"If the professionals had intervened in time, this would not have happened," he said.
"People make mistakes. If they had put their hands up four years ago, we would have understood."
Mrs Regan began her campaign against gun crime after her son Danny, 25, was shot dead in 2002 in Merseyside.