Jarvis Cocker opens new Wakefield library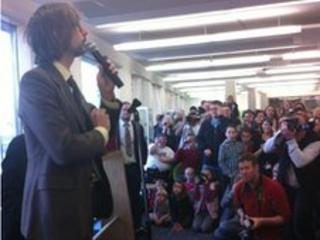 Pulp frontman Jarvis Cocker has opened a new library in Wakefield.
The facility, Wakefield One, is housed in the city's new civic office building and replaces the former facility on Drury Lane.
During the opening, author and broadcaster Cocker talked about his own experience of libraries and what they meant to him.
Wakefield Council leader Peter Box said he was delighted Cocker was officially opening the facility.
The library has more than 60,000 books, 70 computers, a children's section, free wi-fi for library members, quiet and reading areas, and a reference and local studies libraries.