Leeds Town Hall Children in Need gig raises £6,918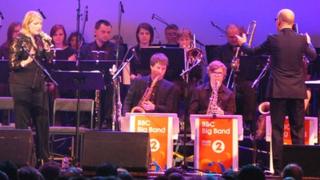 West Yorkshire jazz star Clare Teal and former X-Factor singer Olly Murs have helped raise £6,900 for the BBC's Children in Need appeal at a concert in Leeds.
The event, which took place at Leeds Town Hall, saw the pair perform alongside a newly-formed community big band consisting of musicians of all levels of ability.
About 1,200 music fans attended the gig, which also featured jazz vocalist Gregory Porter who flew from the US to take part in the performance.
The appeal saw £6,918 raised for Children in Need.
According to the BBC, ticket sales raised £13,511 after VAT.
Of this sum 21% went on hiring Leeds Town Hall. Nearly 13% went on credit card payment costs and the town hall's box office commission.
Rigging the venue and hiring musical equipment took 13.7% with 1.1% spent on performing rights fees.
There was no charge for recording the broadcast and none of the performers were paid.
A BBC spokesperson said: "We are delighted to donate this to Children in Need, and will be involved in more fundraising between now and the appeal night on 16 November.
"A big thank you to everyone who supported the concert."
As part of the concert, Kildwick-born Teal, an acclaimed jazz singer, musician and BBC Radio 2 presenter, reworked some of TV star Murs' hits into big band numbers.
The 18 members of the big band were chosen after auditions at Leeds College of Music.
The musicians were a mix of ages, backgrounds and experiences - but all had some musical ability.
The big band's public performance at Leeds Town Hall was recorded by BBC Radio Leeds and will be broadcast on 16 November at 18:00 GMT.