Low Moor station delay criticised by Gerry Sutcliffe MP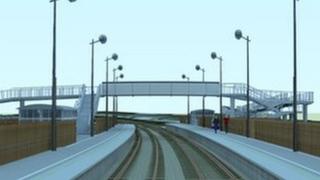 A delay in the opening of a "vital" railway station near Bradford has been criticised by a West Yorkshire MP.
A new station at Low Moor had been due to be completed by 2014, but Metro has now said the project will not be finished until the following year.
Gerry Sutcliffe, Labour MP for Bradford South, said he was "very disappointed".
He said he had written to Metro, West Yorkshire's Integrated Transport Authority, asking for a "full explanation for this decision".
Mr Sutcliffe said he had also asked for written assurances that the "vital link for people in that area" was still a priority.
'Safety requirements'
A spokesman for Metro said: "This is not in any way a plan to scrap the project."
Metro has blamed the delay on changes in "engineering safety requirements for building platforms on a curve".
It said extra work was needed and this was likely to push the date for opening the station into 2015.
Metro also said it was in discussions with Network Rail and Northern Rail to try to achieve a stopping frequency of three trains an hour.
The new station in New Works Road would serve the Caldervale line between Bradford Interchange and Halifax.
Low Moor has not had a station since the old one closed in 1965 and was later demolished.