West Yorkshire's new police commissioner 'not political'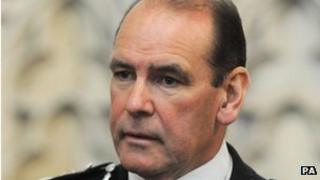 The four candidates hoping to run West Yorkshire Police have said the choice of a new chief constable cannot be a political appointment.
The successful candidate for the post of Police and Crime Commissioner will be able to hire and dismiss the chief constable and set the force's budget.
Elections for the post will be held on 15 November.
The former chief constable, Sir Norman Bettison, who denies any wrongdoing in connection with the allegations of a police cover-up over the Hillsborough disaster, resigned last month but denies any wrongdoing.
'Pick up pieces'
The Conservative candidate Geraldine Carter said she didn't understand fears voiced by some that the the new appointment would be political as "there is a protocol laid down which is followed".
She said the successful candidate would have to "pick up the pieces...and make staff feel important".
Labour candidate Mark Burns-Williamson agreed it was a "misconception" it would be a political appointment but the winning candidate would need to be "absolutely committed to the style of a neighbourhood policing approach".
Lib Dem candidate Andrew Marchington also wanted a candidate committed to a neighbourhood approach and "willing to take a restorative justice approach".
Independent candidate Cedric Christie said: "We need to find a man or woman who can lead, who has integrity and fine leadership skills and inspire the staff."
The candidates were speaking on a BBC Radio Leeds debate a week before the election.
The successful commissioner will be paid a salary for the post that is supposed to help people have a say on how crime is tackled in West Yorkshire.
'Best turn-out'
Other subjects covered in the radio debate included the difficulty in setting next year's force budget as it faces cuts of at least £40m over the next two financial years, and the effect of police stop and search tactics on community relations.
Despite fears of a low turnout Mr Christie said he was confident more than 20% of the electorate would vote. He predicted West Yorkshire would have the "best turn-out in the country".
West Yorkshire Police serves about 2.2m people, covering an area of some 780 sq miles (2,000 sq km) over five metropolitan districts of Bradford, Calderdale, Kirklees, Leeds and Wakefield.
The force area combines busy cities and towns with quiet villages and rural locations.
The area is policed by around 5,400 police officers and 4,000 support staff, including Police Community Support Officers (PCSOs). This makes the force the fourth largest in England.