West Yorkshire PCC candidates: Burglary is a priority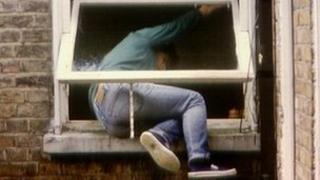 Tackling household burglary in West Yorkshire will be one of the top priorities, all four candidates running for the post of police and crime commissioner (PCC) have pledged.
The West Yorkshire police authority area has the highest burglary rate in England and Wales, according to HM Chief Inspector of Constabulary (HMIC).
Figures show nearly 14 burglaries per 1,000 population were recorded in the 12 months to June. These include actual and attempted crimes involving homes and businesses.
Geraldine Carter, the Conservative candidate, said: "If you're sussing out an area and you see that it gets regularly policed by a police officer then you're less likely to do a crime, because you don't know when they might turn up and catch you.
"I want to do something different and I want to start recruiting special constables, who will be allocated to communities."
Labour candidate Mark Burns-Williamson said: "Under my watch as chair of the police authority, the police have introduced something called 'Operation Optimal', which is a sort of intelligence-based way of predicting potentially where these burglaries may be happening.
"That's why we've had this quite incredible 40% reduction in burglary over a period of time. But there's still a long way to go."
'Effective punishment'
Cedric Christie, an independent candidate who was a former police officer, said: "I have a lot of experience in tackling burglary. I worked in Leeds in the Hyde Park, Woodhouse and Little London areas and part of that time I led a burglary initiative.
"I had a team with me. We got out into the communities, we listened to the communities and we went to scenes of crime. We'd reduced crime in a short period of time by 70% in the Little London and Woodhouse area."
Liberal Democrat candidate Andrew Marchington said: "When somebody's caught we need to make sure that the punishment they get is effective.
"We need to know why they committed that crime - is it because they're involved with drugs? In which case they need treatment.
"Is it because they've not got something else to do? In which case as part of the sentence, there needs to be a look at making sure they've got literacy skills, numeracy skills and work skills so that when they've completed the sentence they can actually go and do something productive."
Elections for police and crime commissioners are taking place in all police areas of England and Wales outside London on 15 November.