Leeds gay quarter proposals examined by council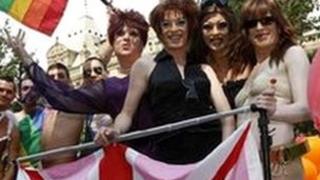 Proposals for Leeds to develop an official gay quarter have been discussed by councillors.
A report to the executive board said the move would encourage further investment and the creation of jobs.
A council spokesman said the authority would support any proposals aimed at promoting Leeds as a gay-friendly city.
However, anything which led to "a sense of segregation or exclusivity" in Leeds city centre would not be supported by councillors, he warned.
Leeds City Council wanted to create a city where lesbian, gay, bisexual and transgender (LGBT) people felt welcome in all areas, the spokesman added.
'Recognise the strength'
Lower Briggate and the Calls area of Leeds city centre are already unofficially known as the "gay area", the council's executive board was told.
Officials had been to Liverpool to see how a similar idea worked there and meetings had taken place with individuals and organisations in Leeds.
Terry George, a Leeds-based gay entrepreneur, said: "It is fantastic to recognise the strength of LGBT people in the city.
"In some respects I hope nothing will change, we don't want to set up barriers. I don't like the name 'Gay Quarter' - we integrate extremely well in Leeds."
However, Mr George said the move would be good to attract more tourists to the city.
The city already hosts Leeds Pride, now in its seventh year, and the steering group of the event said it attracted about 23,000 people and an estimated £1.5m into the city's economy.
The council report said statistics are not available on the overall size of the LGBT population in Leeds.
Lobbying group Stonewall estimate in a large city like Leeds with an established gay social scene, businesses and support network, at least 10% of the population would identify themselves as lesbian, gay or bisexual.