Woodhouse Lane car park in Leeds opens after £5.8m revamp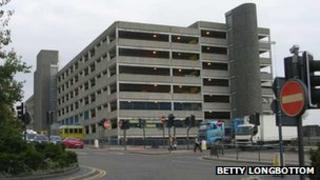 A car park in central Leeds which will serve the city's new arena has reopened after a £5.8m renovation.
Repair work on the ageing Woodhouse Lane multi-storey car park started in September 2011.
The 44-year-old concrete structure has been strengthened and a new stair and tower lift and upgraded lighting and CCTV systems have been installed.
The 1,200-space facility will be one of the main car parks for the new Leeds Arena, which opens next year.
Councillor Richard Lewis, executive board member for development, said the area would be a "fantastic addition" to the city and bring thousands of visitors into Leeds.
The council said it would reduce parking charges on weekdays until 16 November "as a thank you" for "bearing with the disruption".