Henry Moore sculpture: MP's plea over artwork's fate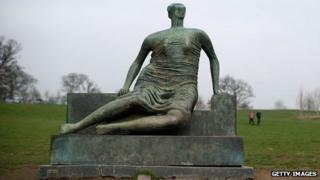 A Henry Moore sculpture under threat of being sold overseas should instead remain on public display in the UK, a West Yorkshire MP has said.
Draped Seated Woman, which is owned by Tower Hamlets Council, has been on loan to Yorkshire Sculpture Park since 1997.
The council, which faces making £100m cuts in three years, will decide next week whether to sell the artwork.
But Wakefield Labour MP Mary Creagh said the sculpture should not go abroad to "some millionaire's private vault".
Repeated vandalism
The bronze sculpture was created by Castleford-born Henry Moore in the 1950s.
It was bought by the former London County Council for £6,000 in 1960 and installed on the Stifford Estate in Tower Hamlets two years later.
After suffering repeated vandalism the sculpture was lent for restoration to the Yorkshire Sculpture Park near Wakefield in 1997 where it remains on show.
No official valuation of the artwork had been made but Tower Hamlets Council said current estimates ranged from £4m-£17m.
Tower Hamlets mayor Lutfur Rahman said the sale of the sculpture was "a stark choice in these times of recession".
'Original vision'
Mary Creagh MP said while she understood the financial pressures on the council, it was important to remember the background to the artwork.
"This sculpture was bought in the post-war period for working class people in London's East End to enjoy," she said.
"We want to be true to Henry Moore's original vision and get the sculpture back to Tower Hamlets where everybody can enjoy it."
Tower Hamlets Scrutiny Committee will vote on the proposed sale on Tuesday. The vote will be followed by a final mayoral decision on Wednesday.
Ms Creagh said she was working with her Labour colleagues in London to ensure the artwork was not sold abroad.
However, if the sale does go ahead the sculpture will be offered for auction at Christie's in February 2013, the council said.