Former Pontefract MP Geoffrey Lofthouse dies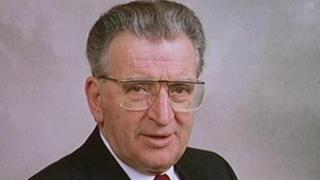 Former West Yorkshire Labour MP Lord Geoffrey Lofthouse has died aged 86.
He was MP for Pontefract and Castleford from 1978 until 1997 when he became Baron Lofthouse of Pontefract.
Yvette Cooper, the present Labour MP for the constituency, said he was "unswerving in his loyal service for people of this area".
Mr Lofthouse first worked as a miner at Ackton Hall pit near Featherstone and entered politics in 1962 with election to Pontefract Borough Council.
'Never stopped campaigning'
Mr Lofthouse also served as deputy speaker in parliament between 1992 and 1997.
Ms Cooper, shadow home secretary, praised her predecessor's "powerful" campaign to get compensation for miners with emphysema and other illnesses.
She said Mr Lofthouse had "never stopped campaigning" and had been involved in getting accident and emergency services re-opened at Pontefract Hospital.
Former Wakefield Labour MP David Hinchliffe said: "He was a life-long supporter of Featherstone Rovers and I was especially close to Geoff through rugby league."
Mr Lofthouse played professionally for Featherstone Rovers and was later president of the All-Party Parliamentary Rugby League Group.