Leeds Town Hall Children in Need gig raises £6,700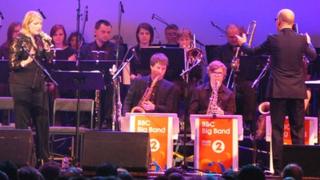 West Yorkshire jazz star Clare Teal and former X-Factor singer Olly Murs have helped raise about £6,700 for the BBC's Children in Need appeal at a concert in Leeds.
The event, which took place at Leeds Town Hall, saw the pair perform alongside a newly-formed community big band consisting of musicians of all levels of ability.
About 1,200 music fans attended the gig, which also featured jazz vocalist Gregory Porter who flew from the US just to take part in the performance.
Gemma Stothard, regional officer for BBC Children in Need, said the concert was "a fantastic start locally for this year's appeal".
'A pleasure'
As part of the concert, Kildwick-born Teal, an acclaimed jazz singer, musician and BBC Radio 2 presenter, reworked some of TV star Murs' hits into big band numbers.
A self-confessed fan of the big band musical style, Murs said he was delighted to play such an "amazing" gig.
To be involved in BBC Children in Need was "always a pleasure", he added.
The 18 members of the big band were chosen after auditions at Leeds College of Music.
The musicians were a mix of ages, backgrounds and experiences - but all had some musical ability.
'Really exciting'
Teal, who was closely involved in building the band following auditions in August, said her challenge had been to bring the musicians together to make a great sound in time for the gig.
"It's really exciting. We're meeting people from all over the community, from different ages, different abilities," she said.
"We're all here for the common reason of wanting to be a part of something."
Grammy-nominated Porter praised the sound the big band had created in just a matter of weeks.
"They have created a very warm sound, very organic," he said.
"For music to be organic and to be played like you feel it - like you mean it - is most important. That's what has happened."
The big band's public performance at Leeds Town Hall was recorded by BBC Radio Leeds and will be broadcast on 16 November at 18:00 GMT.