Mid Yorkshire Hospitals NHS staff strike over redundancies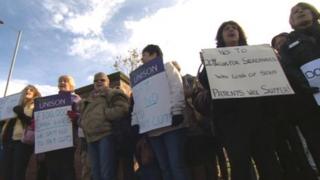 Medical secretaries and receptionists at three hospitals in West Yorkshire are among staff who have gone on strike in a row over potential job cuts.
Unison members were balloted after 74 employees were sent redundancy letters.
The Mid Yorkshire Hospitals NHS Trust, which runs hospitals in Wakefield, Dewsbury and Pontefract, has to save £24m by April 2013.
Jim Bell, from Unison, said more strikes could take place. The trust said all services would run as normal.
Unison said administrative and clerical staff last month voted 88% in favour of the one-day strike action.
'Absolutely livid'
Those balloted included clerks, receptionists, medical secretaries, waiting list and call centre staff working at Dewsbury, Pinderfields and Pontefract hospitals as well as community clinics across the Wakefield district.
Adrian O'Malley, Unison branch secretary, said members were "absolutely livid" and had no alternative but to strike.
He said: "At the time in the middle of a recession when living costs are going through the roof our members are being asked to take pay cuts of between £1,700 and £2,800 a year.
"They are cutting the pay of the lowest paid. There could be savings to be made in pay but I suggest it should start at the top."
Pickets have been held at each hospital and a rally has taken place at Wakefield Town Hall.
Stephen Eames, chief executive of Mid Yorkshire Hospitals NHS Trust, said: "We want to work very closely with Unison and our staff to meet the significant challenges that the trust faces."